Dear Customer, Re Covid-19: Friday, 07-08-2020 - All Weststart Branches Open
West Start Athlone, Cork and Dublin branches are open as normal.
DX and DPD over night service will run as normal. DX have temorarily suspended their same-day service until further notice.
All web orders will be processed as normal.
We are following government guidelines and advice to protect the safety of our staff and customers.
For any queries please call us in Athone at 00353 (0)90 6465634, or email sales@weststart.ie
About Us
We are a wholesale distributor of electrical automotive products, supplying motor factors & auto electrical specialists. We follow these few key principles.
We never supply our customer's customer
We only use manufacturers with a strong history for quality product
Getting the balance right between OE quality and competitive pricing
First class customer service
Who are we?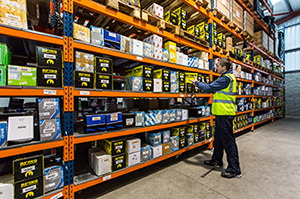 West Start started trading in January 2008 and quickly became the leading supplier of starters & alternators throughout Ireland. West Start's team has 25 years' experience in the rotating industry. Originally based in Westport Co Mayo, It was decided to relocate West Start's HQ to Athlone Co Westmeath at the end of 2011, This gave us an advantage in terms of central location and 6.40pm telesales cut off time. West Start Cork depot started trading on the 1st of November 2013 offering our customers in Cork City and County same day availability. West Start Dublin Depot was opened July 2016, offering customers nationwide sameday orders up until 11.15am.
What we do?
Starters and alternators are in our DNA, We stock them all, from a starter for a water jet ski to an alternator for military tank. If it's got an engine we will have a starter / alternator for it. Our alternative choice inventory program offers new original equipment, new aftermarket or remanufactured options for most of our starters and alternators, This gives our customers the best chance of getting that sale depending of their customer's budget. We also stock all the sub-assemblies solenoids, over run clutch pulleys, starter drives, armatures, bearings, voltage regulators etc.
In 2009 we started importing ignition coils and later added EGR valves, ABS sensors, MAF sensors, CAM sensors, Lambda sensors etc. We have become important supplier for motor factors with this type of product because of the quality and price point.
Customer service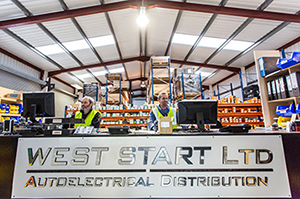 We understand it's not always easy to remember to ring your supplier especially when its busy and nearing 6.00pm, For this reason our sales office & warehouse is open until 6.40pm Mon-Friday in Athlone giving you a chance to take a breath and get your order in. (Online orders need to be logged before 6.30pm for Athlone and 5.10pm for Cork and Dublin.
We can arrange a pre nine o' clock delivery with DX couriers or an after nine with DPD. Saturday deliveries are also possible for customers on the pre nine DX route.
Saturday collections are available from the Athlone warehouse providing the order is placed before 6.00pm Friday evening.
Our e-commerce site offers all the benefits of xref, online ordering, product image, car reg search, returns / warranty and many more features. .
WEST START, GETTING THE BALANCE RIGHT!